Father's Day is fast approaching and there are a lot of fun festivals that are going on around the city. My dad has always said that time is the best gift a child can give their father. Enjoy some time with Dad on Father's Day at one of these fun events:
6 Corners BBQ Fest
It's not uncommon for Dad to be the king of the grill in the summertime, so what could be better than some good music and plates piled high with BBQ? With everything from pulled pork sandwiches to juicy slabs of BBQ ribs, the 6 Corners BBQ Fest inPortage Park is fun for the whole family. Located at Milwaukee Ave, Irving Park Rd, and Cicero Ave, the festival is easily accessible by car or public transportation. In addition to getting wrist-deep in BBQ, there are also arts and crafts tables and a unique market packed with great finds. And you won't want to miss the "Meat on Milwaukee Cookoff". The best backyard chefs will start cooking at 8am with judging at 4pm and the winner will be announced by 6pm.
45th Annual Father's Day Classic Car Show | Visit Website
Take a stroll through Oakbrook Center's park-like mall and enjoy the classic cars on display at the 45th Annual Father's Day Classic Car Show. Truly a car lover's paradise, the one-day-only event will have more than 90 antique, classic, vintage and specialty cars on display. Admission is free and vehicles will be on display from 11am to 6pm.
Father's Day Canoe Adventure | Visit Website
Take part in a rare opportunity and canoe the lakes at the Chicago Botanic Garden. Explore the water while the Garden's aquatic biologist explains the Garden's nationally recognized program to restore and enhance miles of lakeshore. All the while being greeted by heron, frogs, ducks and fish. If Dad's an outdoorsman, he'll love this. Make sur to register soon, spots will definitely fill up!
Lou Malnati's Tastes of Chicago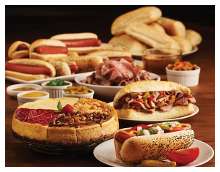 If you're looking for the perfect gift, Tastes of Chicago has just what Dad craves. Deep dish pizza, Chicago-Style hot dogs, Italian beef, and much more! Have it shipped right to Dad's door for the ultimate surprise. If you need some more ideas, head on over to Tastes of Chicago's website for some of our hand-picked favorites.
Pin to Win Father's Day Contest

If you'refeeling lucky, enter our Pin to Win contest for your chance to win a Father's Day gift package. One randomly selected winner will get to pick their prize from the list of suggested pins. Click here to enter!